Distilling the history of our fascination with gin, from mother's ruin to a recent wave of local gins, Dr Sue Bailey celebrates Ginuary.
Sue Bailey recalls her days in Spain – and persuading her daughter to eat prawns.
Whether sweet or savoury, a truffle is the perfect present for your foodie friend this Christmas, as Dr Sue Bailey discovers in her latest Cambridge on a Plate.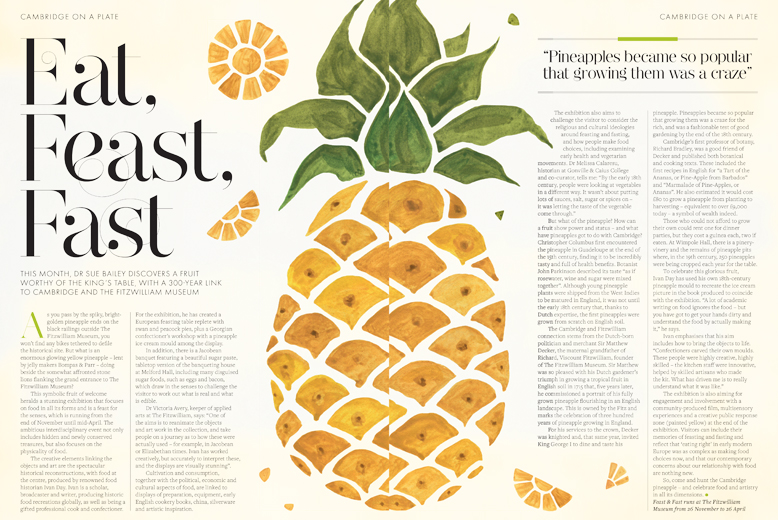 This month, Dr Sue Bailey discovers a fruit worthy of the King's table, with a 300-year link to Cambridge and the Fitzwilliam Museum.
For the love of a good breakfast
Churchill's love of a good breakfast is chronicled by local historian Annie Grey in a book about his cook, Georgina Landemare. Dr Sue Bailey finds out more, and offers some breakfast tips.
September brings not only a celebration of organic produce, but also the pleasure of eating game, says Dr Sue Bailey.
Eating the food history books
With the help of local food writers, this month's epicurean adventure takes us from Cambridge sticky bun wars to tracking a biscuit crumb trail through history to ancient Rome.
Dr Sue Bailey investigates the food history of May balls – and did St John's college really dine on roast swan?
Eating the food history books: second slice
Dr Sue Bailey takes a second slice of food history with the help of more Cambridge-based food writers, exploring puddings and potions.
January 2020 "Fanny Cradock – The First Lady of TV chefs" – Fanny Cradock is back – thanks to a brilliant impersonator. Food historian Sue Bailey reveals how her interest in Fanny Cradock has led to a new career (and why the snooty chef's legacy lives on).
Notes From A Kitchen - regular column - updating soon!
The heritage of east Anglian wine culture may date back to Roman times, but, as Dr Sue Bailey discovers, it's in the midst of a full-bodied revival.
Swimming along the River Cam to Ely
Purportedly named for its abundance of eels, Ely still celebrates this fascinating fish each may, as Dr Sue Bailey discovers.
Cambridge on a plate - A spoonful of history
Put the kettle on as Local food historian Dr Sue Bailey explores our love affair with tea and coffee, including the discovery of an '18th-century Starbucks' in Cambridge city centre.