Series 5, Episode 7: Pots and pans-Le Creuset
Dr Sue and Cherry Healey create the perfect beef casserole with a spicing of kitchen food science.
TV: The Great British Bake Off
Season 8, Episode 5: Puddings
Culinary history consultant Sue shows Sandi Toksvig how to make a Tudor Cambridge Pudding filmed in Queen's College Old Kitchen.
TV: Rip Off Britain: Food
Series 5, Episode 7 ' Sugar Free' drinks and foods
Food scientist Sue investigating 'zero sugar' fizzy drinks with Julia Somerville in the labs at London Metropolitan University.
TV: The Shocking Truth About Food
One of the experts as a food and consumer science specialist throughout this consumer show uncovering some of the shadier aspects of the food processing industry.
TV: Food Unwrapped - What's in a prawn cracker
On camera food expert showing Jimmy Docherty how to make a home-made prawn cracker – "Let's meet Dr Sue Bailey – the Miss Marple of Food Science".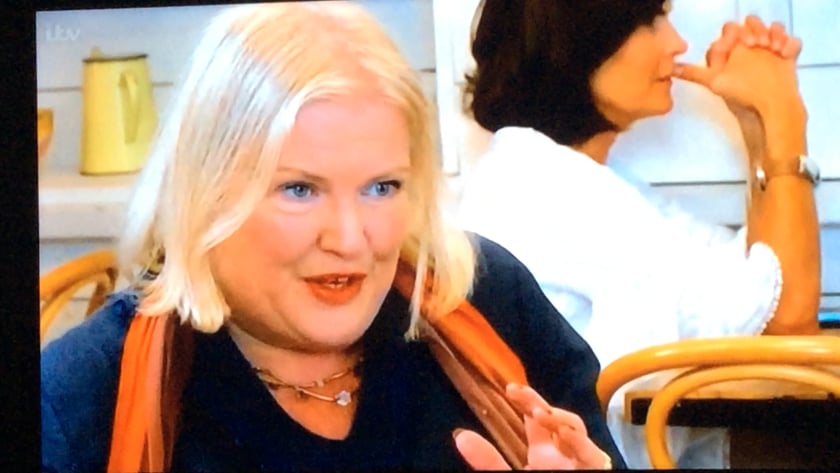 TV: Save Money: Good Health
On camera food and health expert with Sian Williams. Looking at herbs and herbal teas as a way to get a better night's sleep – without spending a fortune.
Radio: PM News and Current Affairs
Coverage of the first day of the Platinum Jubilee bank holiday weekend with Evan Davis. Dr Sue Bailey discusses food history of the ox roast and why the hog roast has supplanted it. 
Is it time for a Brexit cookery book?
Dr Sue Bailey revisits Fanny Cradock and World War Two food culture.
Podcast: Naked Scientists Podcast
BBC Radio Cambridgeshire, BBC Radio Five Live and ABC Australia
Science meets MasterChef. 
Frying the perfect fish with a food scientist and a chef. Why does brown food taste better and how can a blowtorch improve your cooking?
TV – On Camera expert and researcher
More TV appearances over the last few years
 Channel 5 | Secrets of Your Supermarket Food | 2021 | Expert 'talking head' interview contributions on a range of topical food science areas
BBC News Channel | Snacking on public transport | 2019 | Live studio contribution as a food scientist and historian – How snacking food consumption habits have changed over the years plus the history of snack food.
Channel 4 | Food Unwrapped Christmas special | 2019 | Providing background research and expert advice regarding nutritional value and preparation of vegetables
Channel 4 | Great British Bake Off | Forgotten Bakes | 2017 | Created the showstopper example Victorian Savoy cake | Series 1 Episode 8 | Quarter-final | click here to go to the programme
ITV | Save Money: Good Health | Consumer television series that aims to debunk the myths and reveal the facts |
2017 | Research advisor on low sugar alcohol products | Series 2 Episode 2
ITV | Sugar-Free Farm | 2017 | Providing background research and expert advice for scientific experiments
Channel 4 | Food Unwrapped Diet Special | 2016 | Using carbohydrate oligofructose to make sugar free cakes | click here to go to the programme
Channel 4 | Food Unwrapped | 2015 | Ice cream: How not to abuse your ice cream and the science behind refreezing | Series 6 episode 3 | click here to go to the programme
Further radio work as a contributor and presenter
Food matters live – Table talk  podcast. The history of .. The foods born out of British Royal celebrations – and those that never took off 
BBC World Service Podcast – History Hour compilation of the week's five episodes of Witness History – food . Skip to contribution at 19.10 -23.22 
BBC Radio 4 Podcast – Sliced Bread 2023 Sourdough with Greg Foot 
BBC Radio 4 World Tonight – 2019 Fanny and Brexit
BBC Radio 4 –  My first time on a programme -Broadcasting House 2013. Discussing the history of food science and technology using examples of chicken nuggets and gluten-free bread manufacture (skip to 56 min 30 sec)
BBC Radio Scotland – Morning program:  2023 Quiche and Coronation food | 2022 Porridge history | Fifty years of eating |2020 Brussels sprouts history | How to store food safely | 2019 Sourdough versus sourfaux
BBC Radio Five Live 2023 Vegetable shortages
BBC Radio C & W – Vick Minett Show "Vicapedia"  questions 2023, 2021, 2020 & 2019 |
Answering: Debatable history of pizza margherita |Is soup a drink or a meal | Why you can eat cheese with mould on| Medicinal use of brandy for health|  History of the banana flavour | Reheating foods safely 
BBC Berkshire  – 2020  Great British Bake Off and the Japanese cake week | 2019 History of baked beans
BBC Radio Birmingham – 2020 Camping food special during lockdown 
BBC Radio Stoke – 2018 Spice Girls and the best spices
BBC Radio Cambridge – regular news review panel member and food contributor including  local sugar beet history; Brexit debate, food waste, sugar, and sugary treats
Cambridge 105 Radio – Regular presenter and food science and history expert for fortnightly Flavour magazine programe 
Alan Alder first interviewed me as the resident food scientist providing culinary enlightenment when I  started with the Flavour team on this community radio station four years ago.
Since then, I have become a regular presenter, interviewer, and edited recording for Flavour. I have undertaken more than a hundred interviews with chefs and restaurateurs, food writers, food business owners, wine producers, and cocktail makers.
Other Cambridge 105 Radio programs I have appeared on :